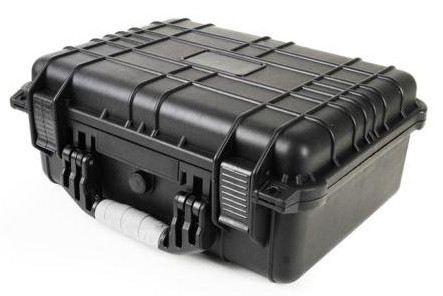 In most places, you'll find that airport security isn't too keen on letting you carry liquids in bottles greater than 100mL in a carry-on bag. Since 2014, there is a nice exception to that for duty free items brought into the US, but that's not very helpful for domestic travel.
Most folks know that checking a fragile item doesn't have a great chance making it home, even with the a fragile sticker. Bags get tossed about. With that in mind, what's the best way to pack a bottle?
Over the summer, I packed six wine bottles in a coleman wheeled cooler, each wrapped in bubble wrap, and they all made it home intact. This worked great for a lot of bottles, but what about for one or two bottles when you're traveling fairly light and don't want to check luggage?
Finding a better bottle bag
The first thing I'd wanted to figure out is the right size for one or two bottles. Measuring a variety of bottles around the house, I came up with a maximum size of 318 x 89 x 89mm (12.5" x 3.5" x 3.5"). The second thing I'd wanted to find was something that could deal with being thrown about 3-6m (10-20'), based upon this baggage handling tomfoolery.
The pelican case comes to mind here due to its anti-shock and anti-crush qualities. With the manufacturer suggested 25mm (1") margin around the sides, that means that I need a case of at least 342 x 114 x 114mm (13.5" x 4.5" x 4.5") in dimension to avoid damage.
A Pelican 1400 or Pelican 1450 would fit the bill, but they're fairly expensive at about $70 and $100 respectively. This got me looking for someone that makes similar cases for a much lower price.
The MCM Electronics 22-24135 fits the bill, is less than $50 on Amazon and less than $40 on the MCM web site. I opted to get the MCM case due to the price and these ridiculous videos attesting to their quality.
Traveling with a equipment case
I finally put the case to the test last weekend with a wine bottle and a whisky bottle on Alaska Airlines. While I was asked if I was carring a firearm due to the popularity of equipment cases for guns, checking it wasn't too much trouble.
When the bag arrived in Seattle, it was held at the baggage handling desk. As it turns out, if you have such a case and it's locked (even with a TSA Lock), it's assumed that it holds a firearm. This is because 18 USC Sec. 922(e) says that a common carrier is not allowed to mark the bag.
The result of this is that it's handled as if it's a firearm, which is a bonus for fragile treatment and keeping folks from walking off with your bag. It's been well publicized that you can pack a starter pistol to keep your luggage from disappearing, but it doesn't seem to be necessary to even pack a real firearm.