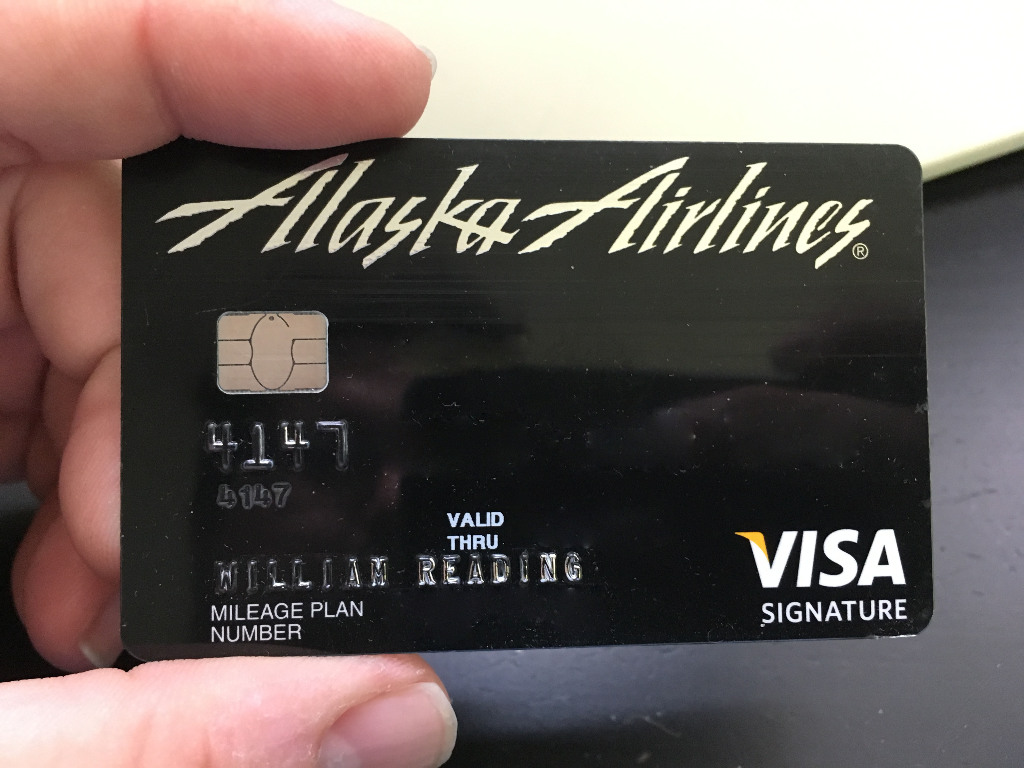 Overview
After writing a bit about the insurance benefits of premium cards, I was left wondering what some of my other cards provide. I was surprised to see that the Alaska Airlines card doesn't have any of the insurance benefits posted online, and to find out the specifics, you had to have another copy mailed.
A week after requesting it, it showed up in the mail, and the benefits are pretty weak.
Disclaimer: This is my reading of these benefits. It's possible that I'm misunderstanding or representing them incorrectly. Check with your card issuer if you want to use these benefits.
Let's start with what's missing compared to some of the premium cards:
No travel delay coverage
No baggage delay coverage
No trip cancellation / interruption coverage
The roadside coverage isn't free ($59/use)
If you're putting all of your flights on this card to get the 3X points on Alaska, you're missing out on these things. If you have some of the premium cards, you could at least take the 5X on the AMEX Platinum card in exchange for that. You could do 3X on the Citi Prestige and get coverage for a three hour delay or 3X on the Chase Sapphire Reserve and get coverage for a six hour delay.
But let's say you did use this card for travel or general purchases, what do you get?
Damaged or Stolen Purchase Coverage (first 90 days)
Extended Warranty Coverage (for a year on up to three year warranties)
Automotive Collision Damage Waiver (secondary)
Common Carrier Travel Accident Coverage (up to 1MM, depending on what happens)
Emergency Telephone Referral Service (Send messages, find hospitals, etc.)
Lost Luggage Reimbursement Coverage (up to $3k except NY, which is $2k)
Automotive Roadside Assistance ($59/use)
Airline Travel Benefits
The main things that are useful for putting travel on Alaska are the Lost Luggage Reimbursement and the Common Carrier Accident Coverage.
Lost Luggage
Is the lost luggage benefit even useful on Alaska?
Let's take a look at the Alaska Airlines Lost Luggage Coverage.
Alaska excludes electronics, cameras, and computers, but the credit card coverage does not. This can be a useful benefit in addition to what Alaska will cover if one of these things is in your checked bag.
Both exclude money, documents and a number of other things, so you would be well advised not to put those in your checked bag.
If you're flying internationally, the card is useful for lost bags because Alaska will pay only pay up to $400 plus $9.07/lb for the lost bag, which isn't a lot for most bags.
Remember that the card's coverage is secondary to what Alaska will pay, so it's necessary to exhaust that first.
Common Carrier Accident Coverage
For this bit, let's look at the Alaska Airlines Contract of Carriage.
Alaska shall not avail itself of any exoneration defense under the Montreal Convention or Warsaw Convention with respect to that portion of such claim for death or bodily injury of a Passenger which does not exceed 113,100 SDRs for each Passenger.
Wait, what's an SDR? This is a funny notational unit of currency used in international documents, such as the Montreal/Warsaw Conventions to represent a fixed value that isn't tied to a specific national currency. At today's pricing, an SDR is valued at 1.38821 USD, so that makes 113,100 SDRs worth $157,007.01.
The credit card insurance will pay out a minimum of $250k for some types of hand injuries and up to $1MM for death. That's measurably a lot better than the maximum coverage that you get from Alaska directly. That said, Alaska hasn't had a serious accident in over 15 years, so hopefully you never have to use these benefits.
Other Travel Benefits
Auto Collision Damage Waiver
This is a pretty standard CDW insurance, with a limit of up to 15 days domestically and 31 days internationally. It's a secondary insurance, and doesn't cover vehicles that you can use for hauling around stuff, or really fancy cars. There is no dollar limit listed, but given the exclusions, it's probably around $50k or less. You have to call them up to find out if a specific vehicle is covered.
Travel / Emergency Telephone Concierge
This is a type of emergency concierge service where they will:
Pass along messages to a set of folks
Help you set up emergency transportation
Provide some information about where you're visiting
Help you file a claim for lost luggage with a common carrier, e.g. Alaska
Walk you through a cash advance with your bank
Find local pharmacies
They also help you find services (at your cost), such as:
A doctor in your location and one that can provide some consulting over the phone
A local attorney and put you in contact with an embassy or consulate if needed
A Telephone-based translator
A courier to send documents from your home
Regular Concierge
This is your standard Visa signature card concierge. They do stuff like:
Help you book flights
Make reservations at restaurants / spas
Book events / tee times
Buy stuff in general
Roadside Assistance
Many cards will throw this in for free and most AAA clubs are only $55/year, and can set it up when you call them. I'm not seeing why you would want this benefit at $59/use unless you're really stuck without something better.
Purchase Benefits
Damaged / Stolen Item Coverage
This is your standard Visa coverage here. For most items that aren't really expensive, irreplaceable, consumable, for commercial use, in extreme weather (rain and snow aren't extreme weather), lost/damaged by a common carrier, used, cash, "mysteriously disappearing", etc., you can get up to $500 back if they're stolen (except from a inside car) or damaged up to $50k/year.
So to give an example, if a spacecraft lands on your house and destroys your new iPhone, this would be covered. If lightning strikes your house and zaps your new tv, this would be covered.
If a snowstorm destroys your new palm tree, this wouldn't be covered.
Extended Warranty Coverage
This is your standard Visa extended warranty coverage. You mail a warranty card over to the benefit administrator and if the item would have broken under the manufacturer's warranty and the life of the warranty from the manufacturer is three years or less, this gives you an extra year.
Wrap-up
The benefits on this card aren't nearly as useful as those you'd get on other cards, but they're better than nothing. The lost bag coverage is probably the thing you're most likely to use, and it's mainly useful if you have something excluded by Alaska's policy.
The purchase protection might be handy if you remember it, but not too many folks would send all warranties to Visa for stuff they buy or remember how long a warranty lasts if not. $500 isn't bad if something happens to a new thing that you just bought in the first three months, but you also have to remember that it exists.
If you're paying for your Alaska fares on this card, you might consider using another one with better benefits and keeping this card around just for the companion fare.